HORSE RACING NATION: Parker Arrested On Animal Cruelty and Theft Charges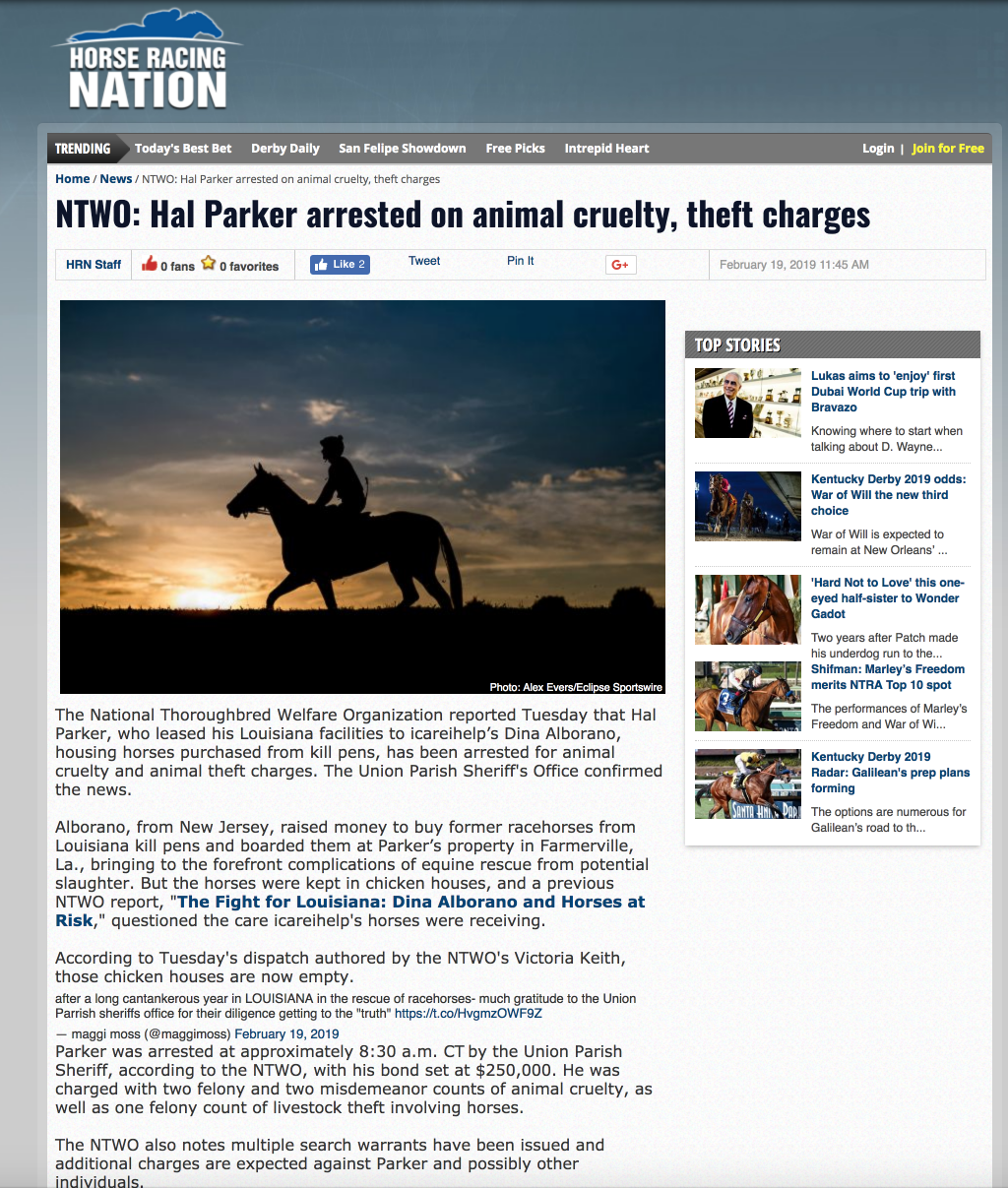 The National Thoroughbred Welfare Organization reported Tuesday that Hal Parker, who leased his Louisiana facilities to icareihelp's Dina Alborano, housing horses purchased from kill pens, has been arrested for animal cruelty and animal theft charges. The Union Parish Sheriff's Office confirmed the news.
Alborano, from New Jersey, raised money to buy former racehorses from Louisiana kill pens and boarded them at Parker's property in Farmerville, La., bringing to the forefront complications of equine rescue from potential slaughter. But the horses were kept in chicken houses, and a previous NTWO report, "The Fight for Louisiana: Dina Alborano and Horses at Risk," questioned the care icareihelp's horses were receiving.
According to Tuesday's dispatch authored by the NTWO's Victoria Keith, those chicken houses are now empty.
maggi moss@maggimoss
after a long cantankerous year in LOUISIANA in the rescue of racehorses- much gratitude to the Union Parrish sheriffs office for their diligence getting to the "truth"
NTWO@NTWOorg
Hal Parker arrested for animal cruelty and theft
74 people are talking about this
Parker was arrested at approximately 8:30 a.m. CT by the Union Parish Sheriff, according to the NTWO, with his bond set at $250,000. He was charged with two felony and two misdemeanor counts of animal cruelty, as well as one felony count of livestock theft involving horses.
The NTWO also notes multiple search warrants have been issued and additional charges are expected against Parker and possibly other individuals.
Rick Porter's Fox Hill Farm, which campaigned champions such as Songbird and Havre de Grace, announced the creation of the NTWO, a 501(c)(3), nearly a year ago. The non-profit's mission is to intercept horses from the racetrack and re-home them before they are sent to auction in kill lots. The NTWO has since partnered with Delta Downs and Evangeline Downs in Louisiana. Both tracks are owned by Boyd Gaming Incorporation.
https://www.horseracingnation.com/news/NTWO_Hal_Parker_arrested_on_animal_cruelty_theft_charges_123
Union Parrish, LA  – FARMERVILLE, LA – 19 FEBRUARY 2019
Farmerville resident Hal Parker was arrested this morning at his home in Farmerville, Louisiana. The arrest was made by the Union Parish  Sheriff's POffice . Parker was charged with multiple felonies and was taken into custody He is held on $250,000.00 bond. Charges include:
1. AGGRAVATED Cruelty to Animals, LARS 14:102B Bond 475,000.00 [FELONY]
2. AGGRAVATED Cruelty to Animals LARS 14:102B Bond $75,000.00 [FELONY]
3. Theft of Livestock LARS 14:67 Bond $60,000.00 [FELONY]
4. Simple Cruelty to Animals 2 COUNTS LARS 14:102 1A Bond $40,000.00
Click HERE for the Story on Horse Racing Nation
This site may contain copyrighted material the use of which has not always been specifically authorized by the copyright owner. It is being made available in an effort to advance the understanding of environmental, political, human rights, economic, democratic, scientific, and social justice issues, etc.. It is believed that this constitutes a 'fair use' of any such copyrighted material as provided for in section 107 of the US Copyright Law. In accordance with Title 17 U.S.C. Section 107, the material on this site is distributed without profit to those who have expressed a prior interest in receiving the included information for research and educational purposes. If you wish to use copyrighted material from this site for purposes of your own that go beyond 'fair use', you must obtain permission from the copyright owner.