PAULIK Report: Parker, Close Associate of LA 'Rescue' Arrested for Animal Cruelty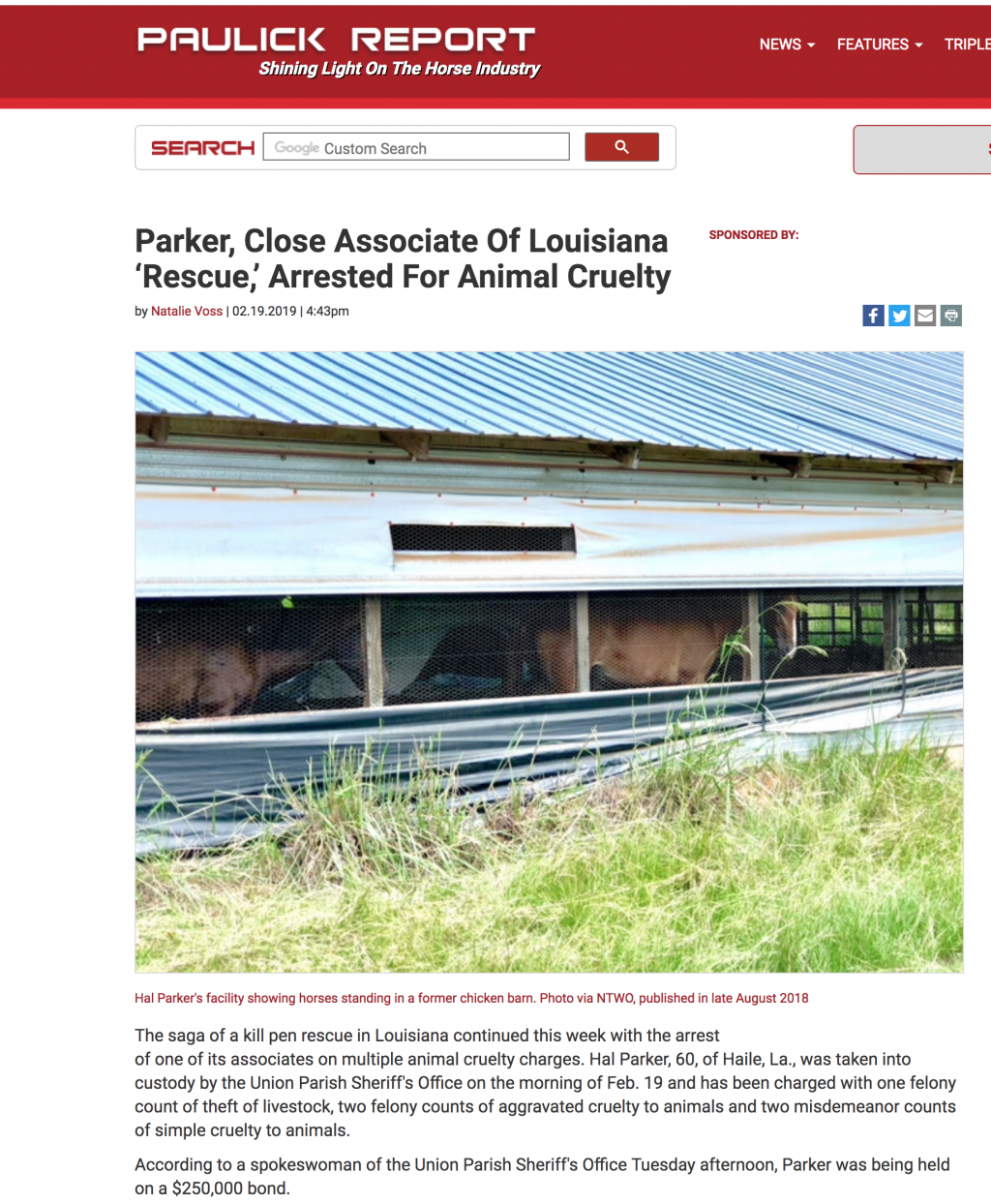 Parker, Close Associate Of Louisiana 'Rescue,' Arrested For Animal Cruelty
by Natalie Voss | 02.19.2019 | 4:43pm
The saga of a kill pen rescue in Louisiana continued this week with the arrest of one of its associates on multiple animal cruelty charges. Hal Parker, 60, of Haile, La., was taken into custody by the Union Parish Sheriff's Office on the morning of Feb. 19 and has been charged with one felony count of theft of livestock, two felony counts of aggravated cruelty to animals and two misdemeanor counts of simple cruelty to animals.
According to a spokeswoman of the Union Parish Sheriff's Office Tuesday afternoon, Parker was being held on a $250,000 bond.
A report from the News Star late Tuesday indicated a search of Parker's property revealed inadequate feed for the horses stabled there and multiple horses diagnosed with strangles. One malnourished horse was in such a severe state of neglect, it had to be euthanized. The report stated the theft charge related to an out-of-state buyer who paid for a horse but never received it. The horses remain unidentified.
Parker was a close associate of ICareIHelp, a self-professed non-profit run by Dina Alborano, and was tasked with boarding and quarantine for horses Alborano rescued from nearby auctions and kill pens. The Paulick Report first began reporting on Alborano's activities in April 2018, at which time the organization did not appear to have achieved tax-exempt status with the Internal Revenue Service, despite claims it was a "non-profit." New Jersey-based Alborano, who initially received support from major names in the Thoroughbred industry, raised money to purchase the horses, transport them, and keep them with Parker by requesting donations to her PayPal account. Our story, published in April, raised questions about the volume of horses taken in by Alborano and Parker in a short period of time, as well as their care in a pair of abandoned poultry houses in Farmerville, La. Horses were often poorly or wrongly identified to the public, and updates seemed unavailable on a large number after they were bailed by Alborano
A follow-up story released by the National Thoroughbred Welfare Organization (NTWO) and published by the Paulick Report in August provided disturbing details about the physical condition of horses adopted from ICareIHelp, as well as accounts from visitors to the poultry barns who described neglected and dead animals. A photograph from NTWO published Tuesday appears to show one of the barns in a new state of disrepair, with much of the roof and some of the siding missing.
Horse rescue "watchdogs" have tracked the number and identities of horses taken in by Alborano in 2018 and say dozens remain unaccounted for, as updates were not provided publicly to donors on their status or adoption after initial fundraising.
Alborano did not respond to a request from this reporter for comment on news of Parker's arrest, but did post a statement on Twitter expressing disappointment in the situation and clarifying that Parker had not been associated with ICareIHelp horses since the publication of NTWO's follow-up in August.
An examination of earlier tweets by Alborano reveals a very different picture, however. Alborano's account contains numerous mentions of sending rescued horses to Parker in October 2018. One tweet even appears to suggest Alborano visited Parker that month during a trip to Louisiana.
More information will be provided as it becomes available.
Parker, Close Associate Of Louisiana 'Rescue,' Arrested For Animal Cruelty
This site may contain copyrighted material the use of which has not always been specifically authorized by the copyright owner. It is being made available in an effort to advance the understanding of environmental, political, human rights, economic, democratic, scientific, and social justice issues, etc.. It is believed that this constitutes a 'fair use' of any such copyrighted material as provided for in section 107 of the US Copyright Law. In accordance with Title 17 U.S.C. Section 107, the material on this site is distributed without profit to those who have expressed a prior interest in receiving the included information for research and educational purposes. If you wish to use copyrighted material from this site for purposes of your own that go beyond 'fair use', you must obtain permission from the copyright owner.